Looking for Insulation Denver North Carolina?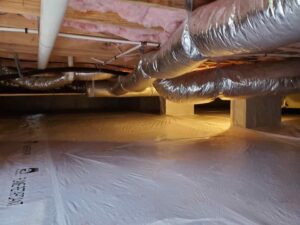 We are your local experts for Insulation Denver North Carolina!
We specialize in insulation installations, crawl space encapsulation, moisture barrier installations, and mold remediation. We understand how important of an investment your property is and work diligently to protect it and ensure that you are getting the very best Insulation Denver North Carolina.
When it comes to keeping your home structurally sound, you'll want to work with an insulation contractor that prioritizes your safety and satisfaction for Insulation Denver North Carolina. You can trust us to provide:
A Thorough Job- Using state-of-the-art materials, we'll make sure every nook and cranny of your space is sealed.
A Satisfaction Guarantee- We're so confident in our work that we offer a warranty on all our services.
Attention To Detail- We won't rest until you can relax in a clean and comfortable home again.
Moisture control is our line of work but exceeding our customers' expectations is what we do best. Schedule your free consultation today for reliable, affordable, and guaranteed services in and around Huntersville, NC.
Need Cleaner, Drier Indoor Air?
FIND OUT HOW WE CAN ENHANCE YOUR AIR QUALITY IN HUNTERSVILLE, NORTH CAROLINA.
Did you know that having humid indoor air can compromise the integrity of your home? Keep your humidity level under control with encapsulation and insulation services from RJ Ward Crawl Professionals. We'll help you lower the humidity level in your home by installing top-of-the-line batt insulation and moisture barriers in your attic and crawl space.
Reach out today to arrange for affordable insulation services in the Huntersville, NC area.
How Can We Make Your Home Healthier?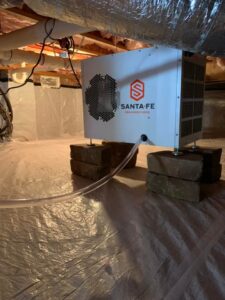 There are a lot of ways toxins, mold and moisture can make their way into your home. But our team is standing by to treat your home from top to bottom. You can count on the capable RJ Ward Crawl Professionals crew to keep your home clean and dry with:
Insulation installations • Crawl space encapsulation • Moisture barrier installations • Mold remediation
If you live within 30 miles of Huntersville, NC, you qualify for a free estimate. Contact us now to get started.
We also offer military discounts. Call (704) 800-0813 today to speak with an experienced insulation contractor about the state of your home in the Huntersville, NC area.
Insulation
We offer all types of batt insulation. R-19 is code for flooring systems, R-15 is code for walls, and R-38 is code for attics or ceilings.
Vapor Barrier
We offer both 6 Mil and 10 Mil plastic for complete coverage vapor barriers.
These barriers prevent groundwater from causing issues such as high humidity and mold. Lower moisture levels mean less chance of unwanted pests, rot, or water damage.
Encapsulations
We offer both 10 Mil and 12 Mil options for encapsulations.
Our encapsulations prevent groundwater from causing issues such as high humidity and mold. Lower moisture levels mean less chance of unwanted pests, rot, or water damage.
All vents and other gaps in the foundation will be sealed to allow the dehumidifier to keep atmospherics at a safe level. When controlled properly, encapsulations can lower your power usage, extend the life of both your flooring systems and insulation, and significantly lower the chance of humidity issues.
Dehumidifiers
We offer both 70 Pint Per Day and 90 Pint Per Day units. The 70 Pint Per Day unit is generally used for spaces up to 1600 Square Feet. For areas above 1600 Square Feet, we recommend the 90 Pint Per Day unit.
Mold Remediation
We are licensed and insured for all mold treatments. We offer all treatments ranging from physically wiping down all surface areas with antimicrobials to fogging entire areas.
We can help with Insulation Denver North Carolina!
Here's what our clients say…
Robbie is the man! I called him for some moisture problems I was having, and he showed up exactly when discussed to come take a look! When his team started the work, they were on-time, organized and cleaned up after themselves! Definitely won't hesitate to use him and his team again!
Eric Robaina
This is definitely the guy you want to take care of your Crawlspace. I purchased my home that was built in 1942, that needed all the insulation pulled out are hung with new, along with my vapor barrier. Great communication. Repairs were complete on time. Exceeded my expectations.
Todd Beaver
By far the best company I called. Very prompt and efficient service. Did a heck of a job and had the best price and customer service in town! Mr. Ward was great!
Nick DeFelice
Excellent prices, great quality service, and an honest hard-working owner.
Ashlynn Houk
Prompt, thorough communication and phenomenal service. I certainly recommend reaching out to Robbie if your crawlspace needs some TLC, or your inspection revealed it needs a closer look.
Rebbecca McCall
RJ Ward did a great job encapsulating our crawlspace and completed a couple additional tasks that weren't in the original contract. It was easy to coordinate with him ahead of time and agree on the work that was to be completed. Definitely recommend!
Ben Wood
Call us at (704) 800-0813 today for Insulation Denver North Carolina!